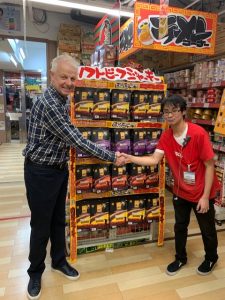 Two of our New World Foods team; Rex De Vantier (Group General Manager) & Travers Nicholas (Asia Pacific Sales Manager) have just arrived back at HQ after a week travelling through scenic Japan, meeting with clients & sampling sake along the way! We've been assured it was merely sampled!!!
They met with the Sales team from supermarket leaders such as Don Quijote originally starting with 2 SKUs, they successfully secured an increase to 5 SKU's including our Mariani Biltong, this makes New World Foods the FIRST biltong exporter into Japan & Don Quijote the first to import Biltong! A great mutual achievement for both parties.
A visit to JR Passengers secured the first PO for Wagyu Mariani Beef Jerky to be stocked on their bullet trains, at their stations & also on their platforms and Kiosks. This new Marian Beef Jerky offer is made from Premium Australian Wagyu beef which has always proven to be a highly popular product in Japan. You'll start to see our products available on JR Passengers from early 2020.
Great effort team!