You can find our brands in thousands of outlets in Australia, Japan, Korea and the UK including supermarkets, food retailers, duty free outlets and convenience stores.
You'll also find our brands in Jetstar Japan's in-flight menus and in food carts and vending machines on Japan's high speed bullet (Shinkansen) trains, which together service more than 150 million passengers annually.
We keep in close touch with consumer tastes through market research and customer feedback and are constantly refining our brands and product range.
For more information please visit the pages below to find links to our brand websites.
Meat Snacks

Mariani Beef Jerky – the iconic Australian beef jerky synonymous with quality and authentic taste the world over for more than 30 years.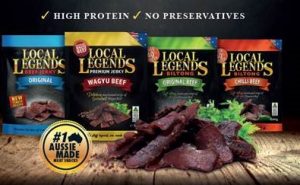 Local Legends Beef Jerky – the new generation beef jerky that adds a little feisty fun to any occasion, truly the stuff legends are made of!